Paediatric Root Canal Treatment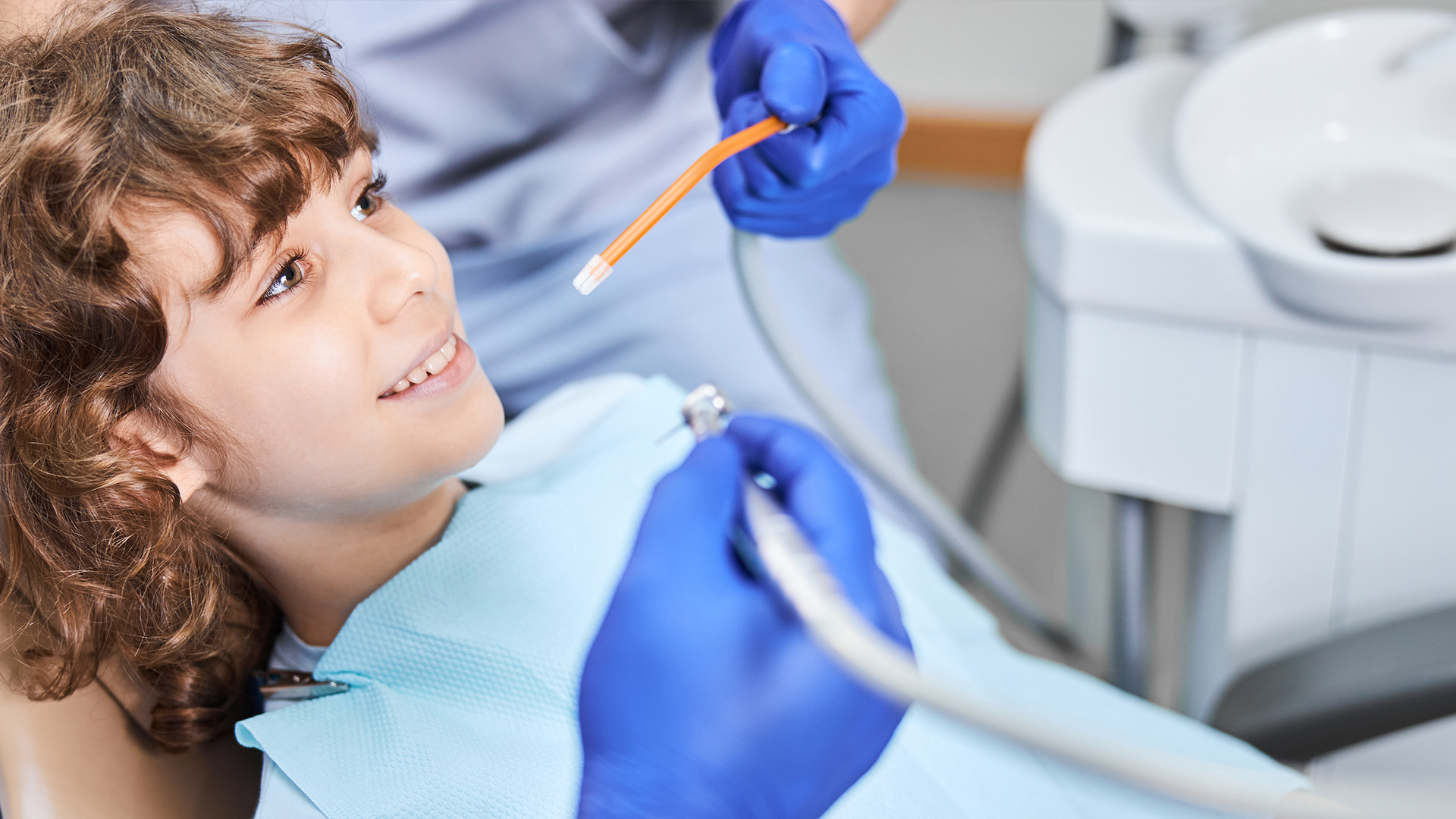 We don't usually think that paediatric root canal treatment is necessary for children. Primary teeth usually become wobbly and fall out along a natural time line allowing adult teeth to erupt into the mouth.
In some cases, if the primary tooth has an inflamed nerve but still needs to remain in the mouth, a root canal treatment can allow dentists to help stabilise the tooth.
Is your child exhibiting any of the following symptoms?
Toothache or pain when biting down on something hard
Cracked teeth, with sharp edges poking out from the gum line
Swollen gums, bleeding while brushing teeth or after eating hot food
If you answered yes to one or more of these questions for your child, then they may be suffering from a root canal infection.
The treatment will alleviate the pain and infection. More importantly, it will allow the primary tooth to remain in the mouth until the adult tooth is ready to erupt. This process reduces the possibility of the adult teeth becoming crowded. It also helps to simplify future orthodontic treatment, or even to avoid the need entirely.
Root canal treatment is not a procedure that we would like to undertake, if it can be avoided. Regular dental examinations can help to prevent and avoid root canal treatments for kids. Unfortunately, sometimes a root canal treatment is necessary in order to save the tooth and prevent an extraction. The procedure towards salvaging the tooth entails removing all diseased nerves from within the tooth. Modern technology has made this process very safe for children and adults alike and the benefits can be well worth it.
It is important for children to receive treatment as soon as symptoms are detected so that they are provided with the proper care and treatment for their long-term oral health. At TEETH @ Tiong Bahru Dental Clinic, children are given specialised care by our experienced dentists. Our team understands that children's needs are different from those of adults'. We work closely with you to ensure your child is comfortable throughout the entire process.
The different types of root canal treatments for children are:
Endodontic treatment given to remove the infected tooth's nerve.
Pulpotomy, a less invasive procedure to remove any debris from inside the tooth and treat it with antibiotics to stop the infection, leaving the root canal in.
Pulpectomy, a procedure where a small cut is made in the child's gum to remove any diseased tissue which can then be followed up with antibiotics.
Paediatric Root Canal Treatment Process
Our professional team of dentists will discuss the problem and treatment options with you, along with the pros, cons, risks, and paediatric root canal costs.
The treatment is carried out under local anesthetic, with either just surface numbing or with injection as well. Our clinic always applies a surface numbing gel before giving the local anesthetic injection, to give almost pain-free analgesia.
The affected nerve is then accessed through the crown of the tooth using dental drills. The whole or part of the nerve is removed, and appropriate medication placed within. A filling is placed to restore the tooth, and occlusion is checked. In some cases a second visit is needed to clean further and replace the intracanal dressing. The root canal-treated tooth will be monitored until the primary tooth falls out and the adult tooth erupts.
Paediatric Root Canal Treatment Cost
Root canal treatments are designed to help children regain their oral health by removing any infected tissue inside the tooth. At TEETH @ Tiong Bahru Dental Clinic, we offer expert paediatric dental care in Singapore to help children overcome many common issues associated with teeth and gums. Our dentists specialize in treating children's teeth problems like cavities and gum diseases as well as performing root canal procedures when necessary to save your child's natural teeth.
Fees for root canal treatment in primary teeth will vary depending on complexity, ranging between $321 – $535. We always encourage you to meet with our dentist for a consultation and discussion of your child's particular needs and treatment costs.
We understand that children can be very sensitive to dental treatments. If you have any questions about children's root canal treatments or would like to book paediatric root canal services with one of our dentist, please do not hesitate to contact us today.
Children (Paediatric) Dentistry Services
Children's Dental Examinations
The most important part of our dental examination for children, especially for a first visit, is acclimatisation. The goal for this first visit is to make each child comfortable in the dental environment and to do only as much as the child can handle.
Fillings are placed to restore teeth to function and appearance after trauma, caries removal or tooth wear. Fillings can be separated into two categories – silver coloured or tooth coloured. We no longer place silver coloured fillings at our clinic.
Early Orthodontic Treatment for Children
When teeth are crowded, or poorly aligned, early orthodontic treatment can help to give your child 'straight teeth'.
Root canal treatment is the process of removing and infected nerve while saving the tooth. It is not a treatment that is frequently needed in children, but is available should the need arise.
Kids Dental Routine Maintenance
A kids dentist provides routine maintenance to reinforcing good oral hygiene and dietary habits, and scaling & polishing. Dietary counselling is given verbally at our kids dental clinic along with demonstrations on tooth brushing techniques. 
Kids tooth extractions is the treatment to take a tooth out under local anaesthetic. It is usually done because a child's tooth can no longer be restored, is too mobile for eating, or for orthodontic treatment.