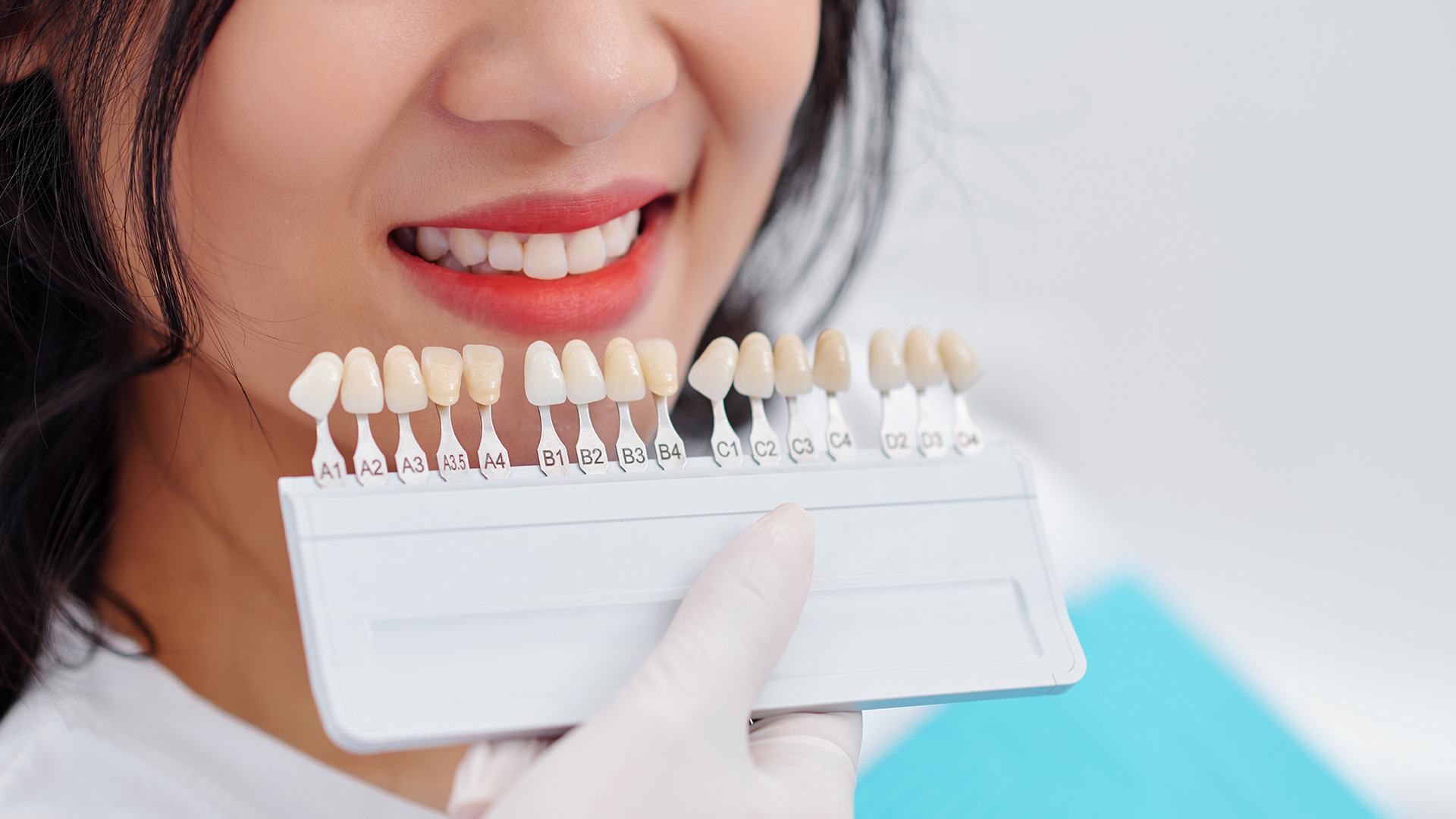 Tired of your stained, chipped or discoloured teeth? Get yourself a smile makeover with dental veneers – one of the most popular dental treatments that can restore and cosmetically improve your smile.
When the tooth is structurally sound, but discoloured or misshapen, veneers can be made to restore your smile back to its original healthy brightness. Veneers are typically applied on the front teeth rather than back molars. Inlays and onlays are used to repair your back teeth.
Veneers are seamlessly designed to blend in with adjacent teeth and feel like your own natural teeth.  Designed to cover the front surface of teeth, dental veneers are custom-made shells that are fitted over the front surfaces of teeth to create a smoother surface. They're made from porcelain or composite resin material which is strong enough to withstand the forces of biting and chewing.
Veneers cannot be used to replace a lost tooth. But if you're ready to see a straighter, brighter smile within weeks, dental veneers might be the cosmetic alternative for you.
Benefits of Veneers to Cosmetically Correct Your Smile
If your teeth are structurally sound, but discoloured, chipped or slightly misshapen, composite or porcelain veneers may be the perfect solution. They require less tooth surface removal than dental crowns, and can disguise many aesthetic problems including spacing and mild teeth malalignments.
All forms of veneers are permanent, which means they cannot be removed once they have been bonded into place. If you have cavities or gum disease, you should look to restorative dental care treatments rather than veneers.
There are a variety of materials and types of veneers to choose from, including:
Porcelain Veneers are the most aesthetically pleasing. It is also toughest and most durable of all veneer materials. Porcelain veneers are a long-term option that requires only minor tooth shaving prior to bonding. Dental porcelain veneers are extremely biocompatible, which means they rarely cause harm to the gum tissues and other soft tissues in the mouth. As porcelain is so natural-looking, these veneers can drastically improve the appearance of your smile.
Composite Veneers are formed of composite resin, which is an inorganic and organic material blend. The filler is the principal inorganic substance in composite resin. Composite resin veneers are made with the same bonding substance as tooth-coloured dental fillings. While sturdy, composite veneers are not as long-lasting as porcelain veneers.
Removable Veneers are provided temporarily while your new porcelain or composite veneers are being fabricated. As they snap onto the teeth, removable veneers should not be used on a regular basis or as a long-term dental remedy. Removable veneers, while practical, do not appear as natural as permanent veneers. They are also more prone to plaque buildup and may cause gum tissue damage over time if they are worn too regularly.
Cosmetic Veneers Dental Process
When embarking on aesthetic treatments, our dentists will create a digital mock-up of the intended result for you first. This is very important because the changes to your smile may be dramatic. You may only be able to visually realise what your smile will look like when you see a 3D real-time digital impression on a screen.
You may also want to wear provisional temporary veneers first before you confirm your choice as veneers cannot be removed once they have been bonded onto the tooth. This allows both you and our dental team to make any minor adjustments before the final veneers are fabricated.
Once you have decided that veneers are a right fit for you, the procedure begins with the application of a local anaesthetic to numb just the tooth area for the procedure. Our clinic always applies a surface numbing gel before giving the local anaesthetic injection for almost pain-free analgesia. If you have any concerns regarding analgesia, simply let our dental team know at any time before the treatment.
Preparation involves trimming the surface of the teeth. Impressions are then taken, and temporary veneers fabricated. When the dental laboratory returns your final veneers, your temporary veneer will be removed. The porcelain or composite resin veneer will then be bonded to the tooth.
Veneer Costs in Singapore
The cost of veneers in Singapore varies depending upon the choice of material.  Our cosmetic dentistry clinic offers competitive prices for veneers in Singapore. We encourage you to meet with our dentist for a consultation and discussion about treatment costs.
Our dentists at TEETH @ Tiong Bahru Dental Clinic in Singapore will recommend your best veneer options based on the condition and health of your teeth to help restore your beautiful smile. Call us today for more information about dental veneers and to schedule an appointment with us!
Cosmetic Dentistry Services
When a tooth is fragile due to a large restoration, broken down or irreversibly discoloured, a crown may be fabricated to protect the tooth from fracture and to restore its function and aesthetics.
 
Adult orthodontics is becoming more and more accessible.  If you have concerns about the alignment of your teeth, we would be happy to see you for a consultation and a discussion about the appropriate method to meet your requirements and priorities.
Our smile is one of the key ways that we greet the world. But teeth can yellow over time with age, and lifestyle choices. Tooth whitening is a simple, non-invasive method to whiten yellowed teeth and brighten your smile.
  
When the tooth is structurally sound, but discoloured or mis-shapen, porcelain veneers can be made to restore and even cosmetically improve your teeth.