Children's Dental Examinations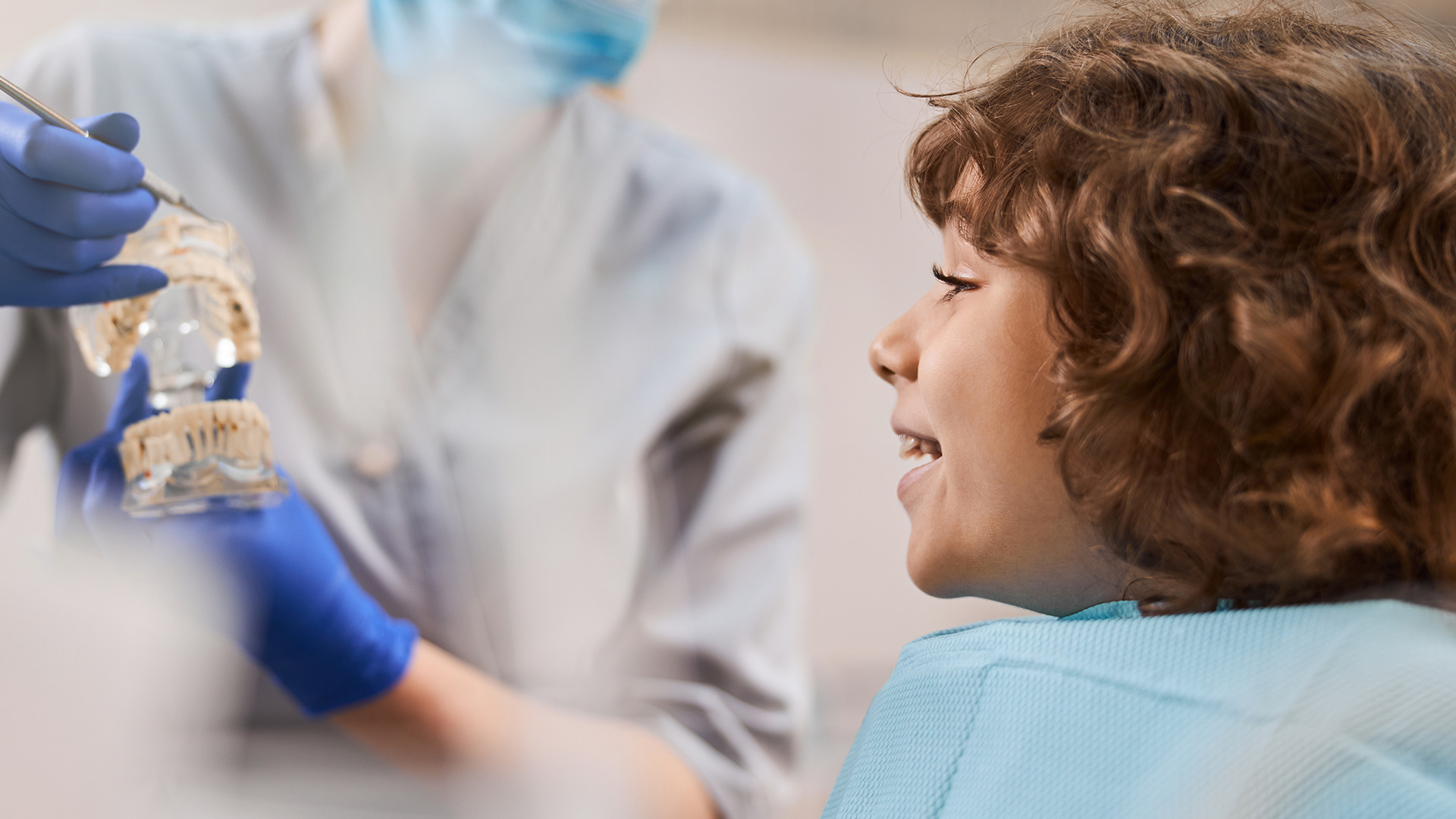 Children's dental examinations are a vital step in children's oral health, and as they continue to grow.
The most important part of our dental health check-up for children, especially on their first visit, is 'acclimatisation' – to make their first dental check-up visit as comfortable as possible. For some children, it will be a huge achievement just to sit on the dental chair by themselves. For others, they may be able to tolerate a full children's dental check-up and even move onto polishing or fillings, if needed.
Benefits of Children's Dental Examinations
A visit to a dental clinic doesn't have to be a scary and traumatic experience for your child! TEETH @ Tiong Bahru Dental Clinic has a team of experienced professionals who take great pride in making sure every single visit is as congenial and delightful as possible for you and your child. Regular children's dental check-ups allow our dentists to build a trusting relationship to help your children in their journey to maintain positive oral health into their adult lives.
The best way to improve your young one's oral hygiene is through regular visits with an experienced children's dentist who understands how kids' teeth grow. Children's teeth and jaws continue to develop as they age. A child's mouth is not as big as an adult's which makes it harder to clean in between teeth that may lead to excessive bacteria that forms into plaque. Regular examinations of teeth and gums allow us to catch problems early – such as eruptions, malocclusions or cavities – to improve on dental care outcomes.
Our dentistry team can also recommend orthodontic clear aligner solutions to help perfect your child's smile. 'Invisalign First' technology is an innovation tailored for a child's unique needs, treats a variety of malocclusions in growing patients and, ultimately, helps your kid get straighter teeth without a painful orthodontic experience.
Dental Examination Process
The goal for the first visit is to make the child feel comfortable in the dental environment and to do only as much as the child can handle so that the experience is a positive one.
The dental check-up for children in Singapore itself involves checking the general oral and periodontal health of the patient. After checking the soft tissues of the mouth, each tooth is assessed for caries or cavities, integrity of existing fillings, if applicable, and phase of teeth eruptions. During the dental check-up and consultation, oral hygiene and dietary counselling will also be provided. Along with a discussion regarding your child's caries risk, and dental interventions to help reduce their risk such as fluoride treatments and fissure sealants. Our team will also identify crooked or crowded teeth in your child's mouth, and examine whether there's a problem with their jaw bite, where their upper teeth doesn't seamlessly close on their lower jaw.
Our dental health check-ups for children will help you stay on top of their oral health from the beginning. Prevention is the best oral health strategy, so it's important for your youngster to come for regular a dental health check-up for children at least every 6 months or as recommended by your trained dentists.
We work closely with parents to suggest preventative care to understand their child's needs at home in order to maintain positive oral health and orthodontic treatments to help straighten teeth. Children's habits stem from modelling their parents' oral routines and behaviours. So, we will also educate parents on at-home oral habits and hygiene to help reduce the risk of tooth decay and gum disease in our little ones.
Cost for Children's Dental Check-Ups in Singapore
Children's dental examinations is one area where we specialise at TEETH @ Tiong Bahru Dental Clinic. Our dentists are highly-experienced in the latest techniques to make a children's dental check-up in Singapore feel comfortable when visiting the dentist. The dental examination and consultation fee varies depending on the complexity of each child's needs. Examination and consultation fees start at $21.40 and are capped at $42.80. Let us give your children an amazing dental experience that they will want to come back for their next routine checkup with TEETH @ Tiong Bahru Dental Clinic!
Children (Paediatric) Dentistry Services
Children's Dental Examinations
The most important part of our dental examination for children, especially for a first visit, is acclimatisation. The goal for this first visit is to make each child comfortable in the dental environment and to do only as much as the child can handle.
Fillings are placed to restore teeth to function and appearance after trauma, caries removal or tooth wear. Fillings can be separated into two categories – silver coloured or tooth coloured. We no longer place silver coloured fillings at our clinic.
Early Orthodontic Treatment for Children
When teeth are crowded, or poorly aligned, early orthodontic treatment can help to give your child 'straight teeth'.
Root canal treatment is the process of removing and infected nerve while saving the tooth. It is not a treatment that is frequently needed in children, but is available should the need arise.
Kids Dental Routine Maintenance
A kids dentist provides routine maintenance to reinforcing good oral hygiene and dietary habits, and scaling & polishing. Dietary counselling is given verbally at our kids dental clinic along with demonstrations on tooth brushing techniques. 
Kids tooth extractions is the treatment to take a tooth out under local anaesthetic. It is usually done because a child's tooth can no longer be restored, is too mobile for eating, or for orthodontic treatment.