The price of invisible braces in Singapore can be as low as $2,400 for direct-to-consumer brands, and can range up to $10,000 for in-dental brands of invisible braces. You've likely seen ads or have friends who have recently gotten direct-to-consumer orthodontics.
At TEETH @ Tiong Bahru, our dentists are certified in Invisalign clear aligners. We find our patients appreciate Invisalign clear aligners to straighten their teeth due to the higher rates of predictability for straighter teeth.
If you want to straighten your teeth without metal braces, clear aligners may be a perfect choice. These customised set of aligners can help to quickly shift teeth into desired positions.
The price for invisible braces in Singapore can vary depending on many factors like the complexity of your specific needs. By making an appointment with one of our trained dentists, we will help you find out if the Invisalign treatment option is a perfect fit for you to reach a brighter, healthier smile.
Our dental team has found that the majority of patients have serious issues beyond minor spacing or crowding. Oftentimes, Invisalign might be the optimal option outside of traditional metal braces.
Invisalign has been widely lauded globally, having treated more than 12 million people. Invisalign has the benefits of more than 20 years of R&D in innovative SmartTrack flexible material developed by biomechanical engineers. Invisalign also has shorter treatment times – up to 50 per cent in most cases.
If you are considering invisible braces, there are several factors to consider. It's important to have all of the information about direct-to-consumer models versus the biomechanical engineered Invisalign products before deciding if Invisalign is right for you.
Are you the type of person that is a good fit for clear aligners?
Important factors you should consider before making a choice.
The Invisalign process.
Need-to-know questions before making a decision.
What Kind Of Person Is A Good Fit For Clear Aligners?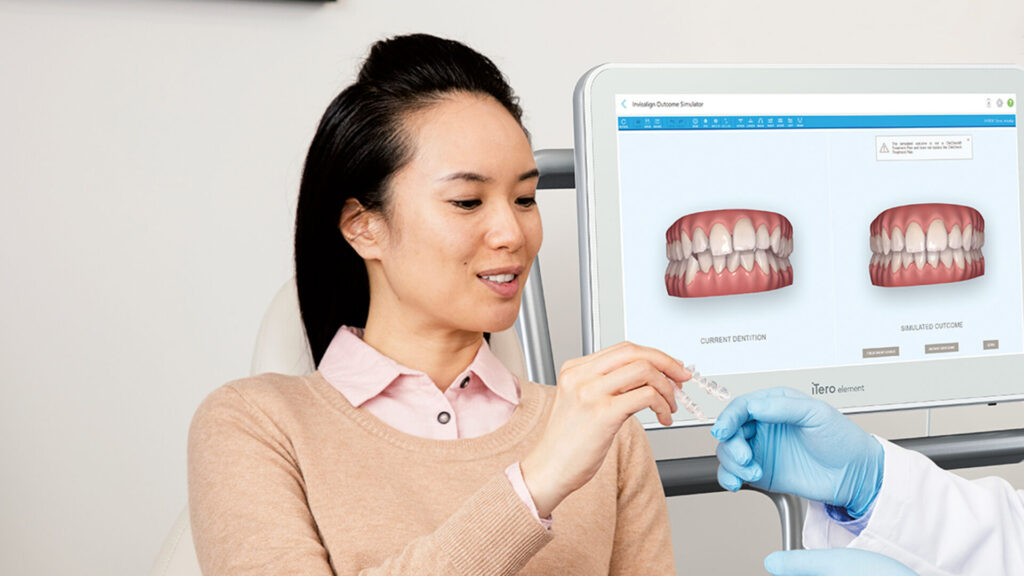 Clear aligners may sound like a great fit, but it is best to speak to a dentist to see if Invisalign clear aligners or direct-to-consumer invisible braces are the right treatment for you. They will discuss the following factors with you, to see if this is the right treatment:
Malocclusion severity: Patients with minor dental misalignments or defects can benefit from invisible braces such as Invisalign. Clear aligners can straighten small gaps between teeth or a couple of misplaced teeth in as little as a month. A patient with crowded teeth or a severe overbite, for example, may not achieve the same level of success as quickly with clear aligners as a patient with only a few misaligned teeth. If the teeth are excessively crooked or misaligned, a dentist may recommend conventional metal braces.
Previous orthodontic treatment: Clear aligners can be used to repair displaced teeth in patients who have had orthodontic treatment for teeth misalignment in their early years. As a result of prior treatment, the teeth will likely only require slight readjustment. The malocclusion is usually not severe, and as such patients are suited for clear aligners.
Duration of treatment: The length of treatment is usually determined by the severity of the malocclusion. When compared to metal braces or direct-to-consumer products, the treatment time with Invisalign clear aligners is longer if the patient has a major overbite or underbite, or any severe teeth misalignment. Aligner trays, on the other hand, repair small tooth flaws faster than other orthodontic procedures.
Some patients experience pain with wearing clear braces:  There may be slight discomfort with invisible dental braces, but with 20 years of research and development, Invisalign SmartTrack technology provides extra comfort. For some patients, the sharp edges of direct-to-consumer aligners can cause some pain. It's important to speak with a dentist about your discomfort.
Wearing clear aligners trays is a commitment: A good candidate for clear aligners is someone who is committed to wearing the trays on a regular basis. For some, the convenience of removing the trays makes it the preferable treatment option, since it allows patients to continue eating their favorite foods and brushing their teeth as usual. The braces must, however, be worn for roughly 20 to 22 hours every day to achieve the best benefits.
Severity of related dental issues: Invisalign may not be the ideal option for you if you have diverse dental issues. Consult your dentist to find out if that is the case for you.
Important Things To Consider Before Getting Invisalign
 Many adults skipped having braces as a teenager, while others had braces but didn't keep wearing their retainer, and their teeth have moved out of position. Whatever the reason, Invisalign is an excellent option for people who don't want to have braces as an adult.
Here are some factors for you to consider about Invisalign treatment:
Invisalign aligners are virtually undetectable since they are transparent. They are more comfortable, discrete, and easy to keep clean. Unlike braces, you can floss, eat, and drink most fluids while wearing transparent aligners.
When you first start wearing Invisalign, it can be difficult to remove your aligners because they may fit snugly and feel tight. You might also have problems popping them in or out of place due to the fact that they are made with a soft material, similar to human gum tissue. However, for most patients, this is only temporary as things get more comfortable and removing and replacing the aligners become a routine.
Some people find that their teeth feel loose when they take out the aligners. This is perfectly normal, as your teeth may be loosened to move into new positions.
When you wear Invisalign, eating habits will change as your aligners must be worn for 20 hours each day. Your daily eating and drinking schedule will have to be adjusted, which makes it harder to sip that morning coffee slowly, or have a leisurely tea in the middle of the day.
With Invisalign treatment, you'll be able to brush your teeth more often. Not only will you be brushing and flossing more often, each time you take out your Invisalign treatment, make sure there is no food residue between your teeth. This can cause an uncomfortable feeling and is bad for your enamel.
Use caution when brushing your aligners with toothpaste, as it may result in them becoming murky and yellow. You'll need to get a particular Invisalign aligner cleaner that doesn't contain any abrasive components. Regular toothpaste can cause a buildup on its surface leading towards an unsightly appearance of stains over time.
New aligners can affect your speech. There may be a slight lisp as your mouth adjusts to the feeling of your aligners in your mouth. This won't last more than a week or two, as your teeth shift into alignment, comfortably fitting the aligners in your mouth.
Cost of invisible braces in Singapore is a concern for a lot of people. Many people think that Invisalign is more expensive than metal braces. In most cases, the cost of Invisalign treatment in Singapore is comparable to the cost of braces.
You will still have to wear a retainer after your Invisalign treatment is over. The retainer will help keep your teeth aligned post-treatment, and maintain your smile.
If you are considering invisible braces, our friendly team at TEETH @ Tiong Bahru will be delighted to meet to discuss your options to help you make the right decision for your smile. Our dental clinic also provides Invisalign First designed specifically for children. We offer Invisalign, which has been shown as an effective alternative or supplement if traditional metal braces are not what you are looking for.
The Invisalign Process
During your consultation, your dentist will learn about you, your smile, to determine which solution suits your goals and budget best. This consultation provides the information needed to create a total rejuvenation plan that's tailored to you.
Next, we'll complete detailed 3D digital scans of your teeth to start designing your new smile. You'll also be shown a preview of your predicted end result of your perfect smile – to ensure you will be satisfied with the end result.
Once your customised aligners are carefully fabricated we'll be able to start your treatment. After your initial set of aligners, we will review your treatment progress every 6-8 weeks to ensure you walk away with your perfect smile. The transformation will begin.
Frequently Asked Questions
What happens during an Invisalign consultation?
At your first Invisalign consult your dentist will take many photos of your face and teeth. Your dentist will also take X-rays of your mouth to fully identify your teeth and facial structure. This will give your dentist a full picture of your mouth to create your Invisalign treatment plan. Your dentist will talk to you one-on-one about your treatment plan, and provide you with the answer for questions like how long it is estimated to take, the frequency at which you have to change aligners, and how much the treatment will cost.
Are clear aligners a better alternative to traditional braces in terms of treatment time?
Aligners are generally faster than braces for shorter and simpler treatments. Braces typically take about 18 to 24 months to achieve results. Clear aligners, depending on the complexity of your case, can produce results in as little as up to 6 months.
How should I make a decision about which clear aligners to choose?
When deciding between the different brands or types of clear aligners, you should consider factors such as your budget, the material of the aligners, in-person or remote dental treatments, and the availability of dental support in case of emergencies.
Is it possible to close gaps with clear aligners?
With clear aligners, you can close gaps between your teeth and get your straight smile.
Is it true that with clear aligners, I may eat whatever I want?
One clear benefit of clear aligners is that you can eat anything your heart desires. There are some mild restrictions like not chewing ice or drinking hot liquids (the liquid might damage the clear aligners). However, you can still have your coffee or tea, by simply taking out your aligners before drinking, or using a straw instead.
What should I do if I misplace one of my aligners?
Each clear aligner is designed to move teeth a little amount at a time, so you may usually transfer to the next aligner without any issues. If an aligner is lost, TEETH @ Tiong Bahru will advise you on the best course of action.
Is it necessary for me to use retainers once my treatment is finished?
Orthodontic retainers are an integral aspect of the treatment process. Wearing a retainer will keep your teeth from slipping out of position and destroying all of the hard work and sacrifice done. Your retainer will keep your teeth in good shape for the rest of your life.
Can I use MediSave for clear aligners?
We understand that some things in life simply can't wait any longer which is why TEETH @ Tiong Bahru proudly provides a variety of financing options with all our cosmetic procedures. During your consultation, your specialist will discuss the options available to you and help you decide which is best for you. Unfortunately, you won't be able to use MediSave for aesthetic or cosmetic dental treatments including clear aligner treatments.
Most adults, teens, and children can be treated successfully with either aligner or braces. The two are equally able to align your teeth, but it's important that you know the options before making a decision.
Getting invisible braces in Singapore are an excellent choice for people who want to improve their smiles without wearing braces. If you would like to learn more about clear aligners and determine whether they are right for you, contact TEETH @ Tiong Bahru today to schedule a consultation. Our team of experts will answer all of your questions and help you decide if this treatment is right for you.